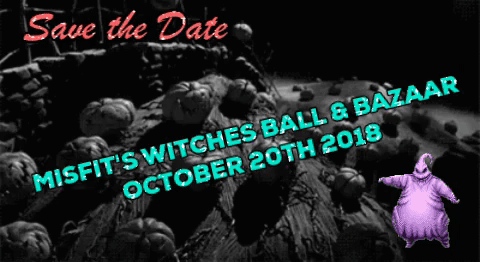 via GIPHY
Celebrate the Thinning of the Veil
Misfit Style
Join us for an Magical Night
of Live Music, Dancing, 
Costume  and Revelry
Saturday, October 20th 2018
8pm ~ 2am
@
Karyae Park
4227 Linwood Rd
Gastonia, NC 28052
♦  Peruse our wide array of Fabulous Merchants & Professional Psychics
♦  Celebrate and Honor the Beloved Dead @ our Ancestral Altar
♦  Rock Out with Classic Rock & Metal Band Pinnacle
♦  Enjoy Mesmerizing Hooper Cara Scholl
♦  Come Dressed to Impress and try to Win our Costume Contest
♦  Delight in The Mystical Mayhem Creative Photography Shoot
♦  Love You a Brunch will be with us all evening with some Delicious
food and Fresh Baked Desserts to curb those hunger pangs
♦  Lets not forget the Drinks…Beer, Cider, Select Mixer Drinks & Midnight Margaritas

Come out for a Bewitching Good Time.
See you there!!!!

Misfit Sanctuary is working very hard to plan & put together
a Magical Evening, filled with much fun, laughter
and Memorable Moments.
Please Respect and Honor all the Hard Work
that has been put into this Event.
By Joining us and taking part in our Creative Masquerade
Come Dressed to Impress
 If you had Rather Not come in Costume,
Please wear your Finest Witchy Best
Purchase your Tickets Now


$20 each, $35 for couples
or $25 each

@ the Door, Day of the Event




21 and over Event
All the Proceed Raised will go
towards Helping Fund Misfit Sanctuary's
Cold Weather Care Packages Project as well as  the
Day-to-Day Operations of Misfit Sanctuary.
Copyright: <ahref='http://www.123rf.com/profile_Prometeus'>Prometeus / 123RF Stock Photo</a>
Copyright: <ahref='http://www.123rf.com/profile_frenta'>frenta / 123RF Stock Photo</a>